Nutritional Information Per 2 Capsules Serving
Caffeine: 200 mg
Ketones: 150 mg
White Kidney Bean: 100 mg
African Mango: 100 mg
CLA powder: 100 mg
Cape Aloes: 100 mg
Magnesium Bisglycinate: 100 mg
Green Coffee: 50 mg
Garcinia Cambogia Powder: 50 mg
Acai: 50 mg
L-Carnitine: 50 mg
Vit B2 (Riboflavin): 0.7 mg
Vit B3 (Nicotinamide): 8 mg
Vit B6 (Pyridoxine): 0.7 mg
Biotin: 25 mcg
Chromium Picolinate: 166.67 mcg
INGREDIENTS
Caffeine, Raspberry Fruit Powder, White Kidney Bean, African Mango, CLA Powder, Magnesium Bisglycinate, Green Coffee, Garcinia Cambogia Powder, Acai, L-Carnitine, Vit B3 (Nicotinamide), Vit B2 (Riboflavin), Vit B6 (Pyridoxine), Chromium Picolinate, Biotin, Bulking Agent (Magnesium Stearate), Gelatin Capsule (Gelatin, Colours: Iron oxides and Hydroxides, Titanium Dioxide; Glazing Agent: Shellac).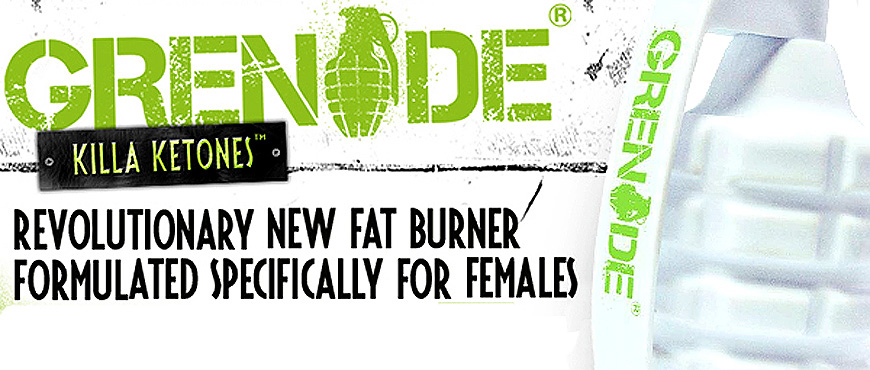 Grenade Killa Ketones™ ketoonid on tõhusad rasvapõletajad, mis on mõeldud spetsiaalselt naistele. Need annavad trenni ajaks juurde energiat ning aitavad põletada rasva.
Võta oma trennist maksimum ning kaota kilod kiiresti
Killa Ketones are designed as a fat burner for women. Made with 16 popular ingredients including Ketones, L-Carnitine, CLA, Acai, African Mango and more.
Ketones are a popular ingredient among women looking to lose fat. We recommend this supplement be used in conjunction with a balanced diet and a consistent exercise routine.
KEY BENEFITS
In compiling all available research on herbal and nutritional fat loss ingredients that could be compatible with fat oxidation in females, the Grenade® Research Team have left no stone unturned, and included serious dosages of Raspberry Ketones, CLA and L-Carnitine just for starters!
The result is Grenade® Killa Ketones™. Combined with a high-protein, calorie and carb controlled diet, Killa Ketones™ is the perfect weight loss solution for females, with the same powerful effects as the original, multi award winning Grenade® Thermo Detonator but geared towards a females unique physiological needs. Let's face it, when it comes to fat loss for females, we all know that, typically, fat is stored in different parts of the body than men. We also know from years of clinical research, that females generally carry less muscle mass, have a higher body fat percentage and use less fat for fuel. All of these facts were key considerations in the minds of the Grenade® Research Team when formulating Killa Ketones™.
Grenade Killa Ketones 60caps / Rasvapõletaja
Tootja: Grenade
Mudel: grenade0010
Saadavus: Laos
Sildid: grenade, killa, ketones, 60caps, , , rasvapõletaja